I first started really smoking when I was 15. Sure there was that time I was 7, but I don't think it counts unless you're buying your own.
But by 15, I was nicely settled into my routine and probably up to a pretty consistent half-pack a day. I never really strayed from that half-pack limit; it's about one an hour, except work times, and it's always kind of worked out for me.
"They" always say that you'll quit when you need to. Or when you have the proper motivation. For me, it was the kid. It got to the point where I couldn't possibly feel more ghetto than putting the baby in front of the TV so that I could sneak out for a smoke. So I quit. Used the patch. Worked like a charm.
I still miss it like crazy though. Especially on a day like today. Stressful work, beautiful weather, 20 minute uninterrupted drive home. But I know I shouldn't go back.
So I made a deal with Carol. On my 75th birthday, I'm buying a carton and having the time of my life. Get me an extra large from Dunkin' Donuts and an ashtray and stand back.
Carol says if that's the case, then she's gonna buy herself pounds of Ghirardelli and join in on the festivities.
Oh, it's going to be sweeeeeeet.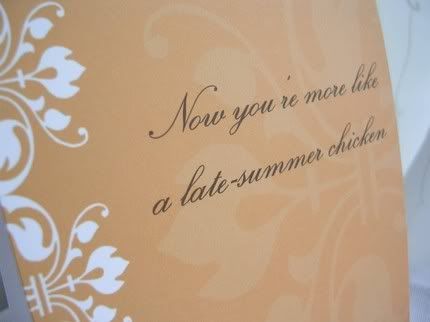 JunkMailGreetings.com